What do we need to cast an addiction spell?
We need the full name and date of birth of the person whom a spell is directed towards. This information can be emailed to info@witchcraftmagicspells.org either before or after your order has been placed on our website.
Who casts the addiction spells?
Our coven consisting of 13
experienced witches and one High Priestess. We all put our
energy into the casting of each spell making them extremely
powerful and effective.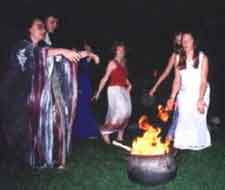 Stop Smoking Spell - Have you smoked your entire life and need to quit now? Do you want to kick the habit and save some money? Are your kids constantly riding you about when you are going to quit? Regardless of your situation this spell will get you or a loved on to not desire smoking any longer.
No More Alcohol Spell - Do you or someone you love have a drinking problem? This spell will get a specific person to slowly decrease their alcohol intake to the point where they no longer have a desire to drink liquor.
Caffeine Addiction Spell - Do you or someone you love absolutely need caffeine to get started in the morning? This spell will decrease someone's dependency on caffeine to function.
Food Addiction Spell - Do you have an addiction to food? Is your loved one struggling with overeating? This spell will decrease a person's appetite to where they eat smaller meals and do not eat between meals.
Customized Addiction Spell - Are you or someone you love suffering from a bad addiction? We can customize a spell to fit your needs and help dependency issues.
Addiction Spell Testimonials
"I have always struggled with smoking and have tried quitting dozens of times. I have never been able to kick the habit for more than two weeks. The stop smoking spell worked so well that I haven't had a cigarette in 6 months now and have no desire to smoke again, not even socially or when I drink with friends! Thanks a million!"
"My boyfriend has always been a heavy drinker. It has increasingly gotten worse over the years. I did not tell him that I had the no more alcohol spell cast to get him to stop drinking. Then one day he came to me and said that he was tired of the way it was making him feel and needed my support to stop all together. We got him into AA and he has been sober ever since! I would say it took about 2.5 months for the spell to fully manifest, but it was definitely worth the wait!"